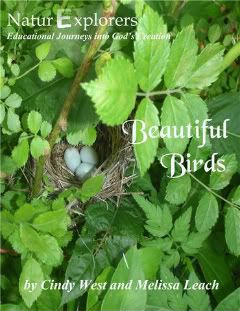 Birds are amazing, interesting and beautiful creatures! This unit helps bring birds nearer and dearer to your heart through serious observation and study -  all seasons of the year.
Find ideas for observing birds from near and far, learn to recognize their calls, investigate their homes, chart the visitors around your house and so much more!
You'll learn how to make your own bird feeders, experiment with beak function and try your hand at nest building. Be inspired to learn about bird parts, migration patterns and even famous bird orinthologists.
This unit is a fresh and comprehensive study of birds from a nature study-inspired perspective.  It includes 16 prepared notebooking pages for you, too!  You'll look forward to each season as you learn to watch for subtle and not-so-subtle changes in the bird life of your area.
Scroll down to view a sample.
61 pages, e-book

"Like all the Nature Explorers units, Beautiful Birds is packed with enough information and ideas to keep you busy for a long, long time. Whether you already have a bird lover on your hands, or are simply hoping to inspire that love in your child, you will benefit from this e-book."  Read more from Melissa Telling's review here.
"Children will learn tons about birds in a playful and natural setting while exercising their creativity and fine-tuning their observation skills.  They will take pleasure in learning to appreciate the unique features of birds.  The pdf format is easy to download and visually attractive." Read the entire Old Schoolhouse Magazine review by Heather Randall here.
 $8.95
The NaturExplorers unit studies are electronic books (e-books). Immediately upon checkout, you will receive an email containing your PDF download. Please check your junk mail folder if the download doesn't arrive in your inbox. You may email Cindy at naturexplorers@gmail.com with any questions regarding your purchase.


Links to art, artists, composers, compositions, poetry and literature suggestions:


Artist and Picture Study – John James Audubon

Composer and Music Study – Beethoven

5th and 6th Symphonies – background information and brief listening files

Poetry -

The Robin by Celia Thaxter
The Song Sparrow by Henry Van Dyke
Recommended Books and Such
Beautiful Birds



These are links to specific titles that we have suggested where we ask you to do your own internet search because of copyright.  We're hoping this will be an acceptable compromise!  There are often other books we have suggested to go along with the art, composer or poetry suggestions.  They are already included in the "recommended book" section, so we chose not to link them again.
As always, if you come across a great link or additional idea for any of these areas, please let us know and we'll add it right away!

I've been busy pinning fun extras to supplement the Beautiful Birds study!