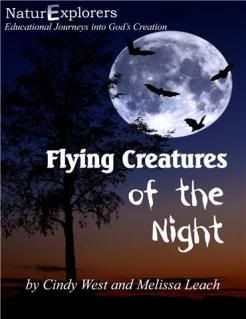 Flying Creatures of the Night offers you a unique nighttime nature study packed full of fun ideas!  Although the unit covers topics that would be suitable for many nocturnal creatures – such as night vision and predator/prey relationships – we've chosen to focus much of the teaching around flying nocturnal creatures.  Most specifically, bats, owls, moths and fireflies.
These creatures are brought to life through outdoor observations, experiments and comparisons that are simply perfect for any summer night's study.  Many of the ideas can be completed during spring and autumn, too, with the exception of activities directly relating to fireflies.  We've even thrown in a couple of winter suggestions!
Back inside, have fun making models, completing experiments, playing games, eating simple snacks and creating beautiful art projects.
Experiments and research suggestions will help you answer the following questions and so many more:  How do your pupils or sense of smell compare to a nocturnal creature?  Can you communicate as well as a firefly?  Can you create moth symmetry?  Have you ever thought about the migration or hibernation of a nocturnal creature?
Creative projects and writing assignments galore will help you classify nocturnal creatures, compare them to diurnal creatures, dive deep into specific species, make maps, diagram bodies and life cycles – plus oodles more!
Fifteen notebooking pages add to the excitement indoors and out in this unit.  Night owl or not, we think you'll enjoy this exciting change of pace from daytime nature study!
Scroll down to view a sample.
60 pages, e-book
$8.95
The NaturExplorers unit studies are electronic books (e-books). Immediately upon checkout, you will receive an email containing your PDF download. Please check your junk mail folder if the download doesn't arrive in your inbox. You may email Cindy at naturexplorers@gmail.com with any questions regarding your purchase.
Links to art, artists, composers, compositions, poetry and literature suggestions:


Artist and Picture Study
A Great Owl and Chicks by John Gould
Great Cinereous Owl by John Gould
Great Horned Owl by John James Audubon
Snowy Owl by John James Audubon
Stuffed Bat by Vincent Van Gogh
A Bat by James Ward
Firefly by Eva O'Laughlin
Candle Flies by Cindy Thornton
Emperor Moth by Vincent Van Gogh
Composer and Music Study – Ludwig van Beethoven

Poetry
The Owl by Alfred Tennyson
The Bat by Theodore Roethke
Fireflies in the Garden by Robert Frost
Fireflies by Carolyn Hall (This is located on a blog.  We do not know what else you might find on this blog, so please be careful as always on unknown sites.)
Goldwing Moth by Carl Sandburg
Recommended Books and Such
Flying Creatures of the Night



These are links to specific titles that we have suggested where we ask you to do your own internet search because of copyright.  We're hoping this will be an acceptable compromise!  There are often other books we have suggested to go along with the art, composer or poetry suggestions.  They are already included in the "recommended book" section, so we chose not to link them again.
As always, if you come across a great link or additional idea for any of these areas, please let us know and we'll add it right away!