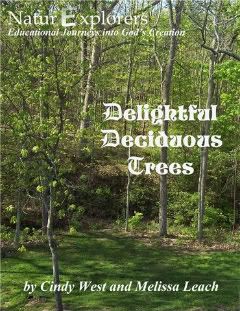 The way deciduous trees change right before our eyes every year is captivating! This unit helps you take time to observe trees in all seasons and learn more about their mighty ways and powerful purposes.
Delightful Deciduous Trees comes with a huge amount of notebooking pages – Nineteen!  Some are seasonal scavenger hunts, others focus on tree parts, tree life and tree comparisions. The notebooking pages alone will keep you busy for quite some time! However, there are many additional ideas for studying trees outdoors. From leaves to bark to tree critters, ideas abound for detailed observation.
At home, you can choose from such things as making chlorophyll prints, graphing leaves or completing a transpiration experiment. You might also choose to learn more about photosynthesis, fungi, deciduous forests, state trees, erosion control, Arbor Day, botanists and more by completing one or more of the many suggested projects.
Deciduous trees offer us so much learning each and every season. Don't miss out on studying such an amazing nature topic!.
Scroll down to view a sample.
62 pages, e-book

"When I first discovered the NaturExplorers series, I was instantly impressed with the versatility of lessons and the cross-curricular units, and now as I delve into the individual studies, I am ecstatic with my children's response to the units." Read the rest of Kim's review at HomeschoolReviews.com!
"And resources! Delightful Deciduous Trees is just packed with resources; you won't have to pull this study together, because Cindy and Melissa have done it so well for you. You'll find inspirational literature, ideas for nature walks and other outside activities, follow-up hands-on activity ideas, writing and research ideas (yes! writing assignments already crafted!), references for Bible study, artist and composer study, poetry tie-ins, kid-friendly internet links and book lists for further study, and beautiful notebooking pages.  Dioramas!  Mini-booklets!  File folder reports!  See?  Delightful Deciduous Trees is just packed. Read the entire The Old Schoolhouse Magazine review by Kendra Fletcher.
    $8.95
The NaturExplorers unit studies are electronic books (e-books). Immediately upon checkout, you will receive an email containing your PDF download. Please check your junk mail folder if the download doesn't arrive in your inbox. You may email Cindy at naturexplorers@gmail.com with any questions regarding your purchase.
Links to art, artists, composers, compositions, poetry and literature suggestions:
Artist and Picture Study -
Find the many Vincent Van Gogh suggestions here.
Find the many Georges Seurat suggestions here.
Composer and Music Study – Engelbert Humperdinck

Poetry -
Trees by Percy Joyce Kilmer
Recommended Books and Such
Delightful Deciduous Trees



These are links to specific titles that we have suggested where we ask you to do your own internet search because of copyright.  We're hoping this will be an acceptable compromise!  There are often other books we have suggested to go along with the art, composer or poetry suggestions.  They are already included in the "recommended book" section, so we chose not to link them again.
As always, if you come across a great link or additional idea for any of these areas, please let us know and we'll add it right away!

Check out all the fun activities I've pinned to go-along with Delightful Deciduous Trees.