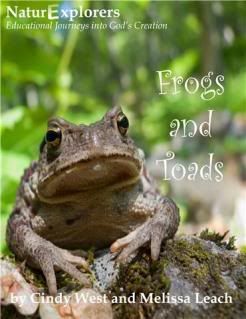 Spring and summer nights spent listening to the calls of frogs and toads are so peaceful. Something about finding a frog or toad is peaceful, too. Maybe it's because they often allow you to quietly sit and observe as they go about their daily life, well most toads do anyway.
This unit will first teach you the best places to look for frogs, toads, eggs and tadpoles.  Once you find them, we'll help you make the most of your observations in the field and at home.  You'll find all kinds of hands-on suggestions such as measuring jumps, making comparisons, creating toad abodes, observing meal time, making toad inspired recipes and putting together 3-dimensional displays.
The Frogs and Toads study will keep you busy learning about such things as metamorphosis, amphibians, vertebrates, cold-blooded animals, carnivores, molting, and vernal pools.  And this list only covers a small sampling of topics, not to mention the 15 notebooking pages included!
Any child who brings frogs or toads home in their pocket will love this unit! But, those of you who prefer to watch frogs and toads from a tad further distance will love it, too.  Frogs and Toads makes a wonderful study for spring or summer.
Scroll down to view a sample.
56 pages, e-book

"And resources!  Frogs and Toads in packed with resources; you won't have to pull this study together because Cindy and Melissa have done it so well for you…Life cycle mobiles!  Dioramas!  'Lily pad' ice cream floats!  See?  Frogs and Toads is just packed!" Read the entire Old Schoolhouse Magazine review by Kendra Fletcher!
QUARTERLY SPECIAL!  Only $6.00!  $8.95
The NaturExplorers unit studies are electronic books (e-books). Immediately upon checkout, you will receive an email containing your PDF download. Please check your junk mail folder if the download doesn't arrive in your inbox. You may email Cindy at naturexplorers@gmail.com with any questions regarding your purchase.
Links to art, artists, composers, compositions, poetry and literature suggestions:
Artist and Picture Study -

Searching for Frogs by Eve Wheeler
Frog Pond by Sangita
A Pair of Frogs I, A Pair of Frogs II by J.W. Wood
Zebra Frog, American Bull Frog by George Shaw
La Grenouillere (The Frog Pond) by Claude Monet
La Grenouillere (The Frog Pond) by Pierre-Auguste Renior
Composer and Music Study -

Concert of Frogs and Toads by George Phillip Telemann (info and listen to snippets)
Ivan and the Frog Prince by Sergey Prokofiev
Poetry -
Old Frog by Basho
Frog and Toad by Christina Rossetti
The Frog by Hilaire Belloc
The Song of the Toad by John Burroughs
A Friend in the Garden by Juliana Horatia Ewing
Recommended Books and Such
Frogs and Toads



These are links to specific titles that we have suggested where we ask you to do your own internet search because of copyright.  We're hoping this will be an acceptable compromise!  There are often other books we have suggested to go along with the art, composer or poetry suggestions.  They are already included in the "recommended book" section, so we chose not to link them again.
As always, if you come across a great link or additional idea for any of these areas, please let us know and we'll add it right away!
Frogs and Toads Sample Pages