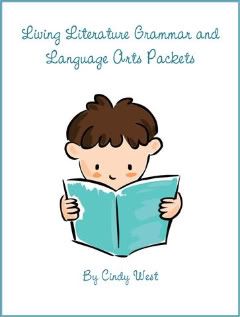 Living Literature, Grammar, and Language Arts Packets is a series of 15 weekly language arts lessons centered around various twaddle-free fiction, non-fiction, and historical fiction picture books. Each week, the 3rd- to 4th-grade student is asked to read one of the books and complete a packet of language arts activities that relate to the book. The lessons are short and sweet, yet cover a vast array of language arts skills in the areas of:
* Grammar
* Reading comprehension
* Critical thinking
* Writing skills
* Poetic devices
* And more!
Each week includes a spelling list that encourages handwriting practice as well. All of the literature necessary to complete the packets is likely to be found at your local library.
Living Literature, Grammar, and Language Arts Packets was written to encourage a love of the language arts rather than the drudgery that so often occurs.  The rich literature draws children in, while the simplicity of the lessons keeps them from burning out.  Throughout the lessons, Cindy was sure to cover all the language arts skills covered in a typical 3rd and 4th grade scope and sequence, making it a very thorough curriculum.
119 pages, e-book
Scroll down to view a sample.
$8.95
Shining Dawn Books publications are electronic books (e-books). Immediately upon checkout, you will receive an email containing your PDF download. Please check your junk mail folder if the download doesn't arrive in your inbox. You may email Cindy at naturexplorers@gmail.com with any questions regarding your purchase.
Read the Reviews
"I am pleased to say that along with the wonderful book selections, your curriculum is very good. The layout and instructions are wonderful and you provide thought to each and every book selection. Well done, Cindy!! This family of Unschoolers is going to finish off all these books!! I will highly recommend your ebook to other Mama's. Using real books offers real learning!!" ~Kelly, IN
"Living Literature Grammar is a wonderful resource. The directions are laid out nicely so that you can read over them once and know exactly what is needed. I also appreciated the list of grammar definitions that I printed and put in my daughter's binder for quick reference. My daughter really enjoyed the switch from the normal pace of workbooks. She liked that her spelling words came from a story she enjoyed. It all tied together nicely." ~Kim, KY
"I have enjoyed using 'Living Literature Grammar and Language Arts Packets' with my 2nd grade son. The selection of books includes a diverse array of topics. Many of which I found in my own home library. I especially liked reading Cindy's description of how she decided to share her curriculum with others. It was an encouragement that I could use what Cindy has provided as well as borrow her teaching technique to use with other materials. I also enjoyed her suggestions for using the materials as well as how they could best be organized…it was a gift for this new homeschool mom! Kudos to you, Cindy, and many thanks for your thoughtful and well-researched materials! ~Amanda, WI
LivLitGrLAPSample Pages