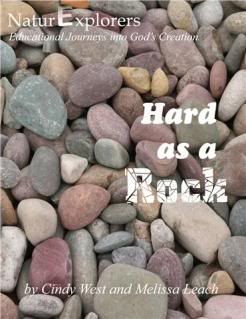 The topic of rocks for nature study can seem kind of dull.  That is, until you actually take the time to explore and find God's treasures in rocks!
In this unit, you'll learn about how rocks were formed from a creationist viewpoint and learn about the amazing rock cycle.  See how vast and interesting rock types are, learn to test rock characteristics, find fossils,  discover signs of weathering, and much more.  And that only covers the first section!
Another entire topic awaits you in Hard as a Rock that sends you on a journey to explore life under rocks.  Through many observations and experiments, you'll discover an entire little world full of creatures who prefer to stay hidden.  Snails, slugs, ants, earthworms and pillbugs name just a few of the amazing creatures you'll learn about.
At home, you'll make edible and non-edible models of rocks, as well as create 3-D landforms,  complete a rock displacement experiment, make a rock habitat and oodles more. You'll be inspired to learn about early rockhounds, find out what an isopod is,  learn how a mineral is different from a rock, and discover interesting rock landmarks throughout history.  The variety of learning activities centered around the study of rocks in this unit could keep you busy for weeks!
Sixteen notebooking pages compliment several of the activity suggestions, too!
After completing this study, the topic of rocks will no longer seem dull.  In fact, you may find yourself or your children with a new passion for rock collecting!
Scroll down to see a sample.
63 pages, e-book
$8.95
The NaturExplorers unit studies are electronic books (e-books).  Immediately upon checkout, you will receive an email containing your PDF download. Please check your junk mail folder if the download doesn't arrive in your inbox. You may email Cindy at naturexplorers@gmail.com with any questions regarding your purchase.
Links to art, artists, composers, compositions, poetry and literature suggestions:
Artist and Picture Study -
The many suggested works of Paul Cezanne can be found here.
The many suggested works of Caspar David Friedrich can be found here.
Composer and Music Study -

St. John's Night on the Bare Mountain by Modest Mussorgsky
Carnival of the Animals: The Fossils by Camille Saint-Saens
Poetry -
The Rock and the Bubble by Louisa May Alcott
The Worm by Ralph Bergengren
The Ant Explorer by C. Michael James Dennis
Considering the Snail by Thom Gunn
Recommended Books and Such
These are links to specific titles that we have suggested where we ask you to do your own internet search because of copyright.  We're hoping this will be an acceptable compromise!  There are often other books we have suggested to go along with the art, composer or poetry suggestions.  They are already included in the "recommended book" section, so we chose not to link them again.
As always, if you come across a great link or additional idea for any of these areas, please let us know and we'll add it right away!