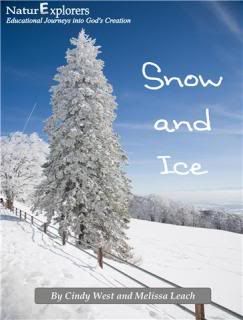 Not everyone thinks of nature study when the temperatures dip below freezing, but God has some amazing discoveries in store for you when you venture out during the winter months!
In this unit, you will train yourself to see the beauty and delicate intricacies of snow, ice and frost, as well as understand the science behind each.  Outdoor activity ideas will encourage you to explore properties of snow, ice & frost, make measurements, determine directionality, experiment with temperatures and wind chill, experiment with friction, notice plant and animal reactions, and much, much more!
Indoors, you can continue the learning while staying toasty and warm!  Experiments, demonstrations and hands-on projects will focus on such things as the properties of snow, ice, frost & crystals, why roads are salted and insulation materials.  This unit is also packed with several ideas for arts, crafts and cooking to go along with the wintery theme.
The topics don't stop coming!  Explore snow terms, historical blizzards, winter sports, famous snowy mountains, mapping skills, snow safety and plenty more as you are prompted to complete several fun and practical projects.  All this plus 14 notebooking pages make a jam-packed 64 page unit!  Don't let the cold months slow down your nature study!
Scroll down to view a sample.
64 pages, e-book
"Th

ere are a host of hands-on science experiments, ideas for drawing in a nature journal, instructions for fun craft projects (such as embroidery and ice candle making), a recipe for making homemade ice cream (without a freezer), writing and research topics, and much, much more."  Read more from this Heart of the Matter review here.
"Snow and Ice guides us in observing small details and explains the reasons for a vast variety of winter effects.  Have you ever noticed snow melting around the base of a tree?  I have but never thought to question why.  (It's alive, and living things create heat.)  Melissa and Cindy get into real wintertime fun by suggesting that the reader experiment with different sleds and relate how well they glide on various types of snow.  The activity suggestions seem endless." Read the entire review for The Old Schoolhouse Magazine by Katherine Averill here.
  $8.95
The NaturExplorers unit studies are electronic books (e-books). Immediately upon checkout, you will receive an email containing your PDF download. Please check your junk mail folder if the download doesn't arrive in your inbox. You may email Cindy at naturexplorers@gmail.com with any questions regarding your purchase.
Links to art, artists, composers, compositions, poetry and literature suggestions:


Artist and Picture Study

Norman Rockwell -

Pieter Bruegel the Elder -

Winter Landscape with Skaters
The Hunters in the Snow
Alfred Sisley -
Snow Scene, Moret Station
Snowy Weather at Veneux-Nadon
Snow at Louveciennes
Grandma Moses (Anna Mary Robertson) -
January
Sugaring Off
The Old Bridge in the Valley
The Old Oaken Bucket
Going to Grandma's
Composer and Music Study – Beethoven

AntonioVivaldi -

Rimsky – Korsakov -
Claude Debussy -
Hymn:
Whiter Than Snow by James Nicholson and William Fischer
Poetry -

Snowflakes by Emily Dickenson
Dust of Snow by Robert Frost
A Winter Eden by Robert Frost
Winter Solitude by Matsuo Basho
Blow, Blow, Thou Winter Wind by William Shakespeare
Winter by Walter de la Mare
Winter-Time by Robert Louis Stevenson
Winter Song by Katherine Mansfield
Winter Trees by William Carlos Williams
Woods in Winter by Henry Wadsworth Longfellow
When all the World is Full of Snow by N. M. Bodecker
Recommended Books and Such
Snow and Ice


These are links to specific titles that we have suggested where we ask you to do your own internet search because of copyright.  We're hoping this will be an acceptable compromise!  There are often other books we have suggested to go along with the art, composer or poetry suggestions.  They are already included in the "recommended book" section, so we chose not to link them again.
As always, if you come across a great link or additional idea for any of these areas, please let us know and we'll add it right away!

I've pinned all sorts of fun ideas to supplement the Snow and Ice study!